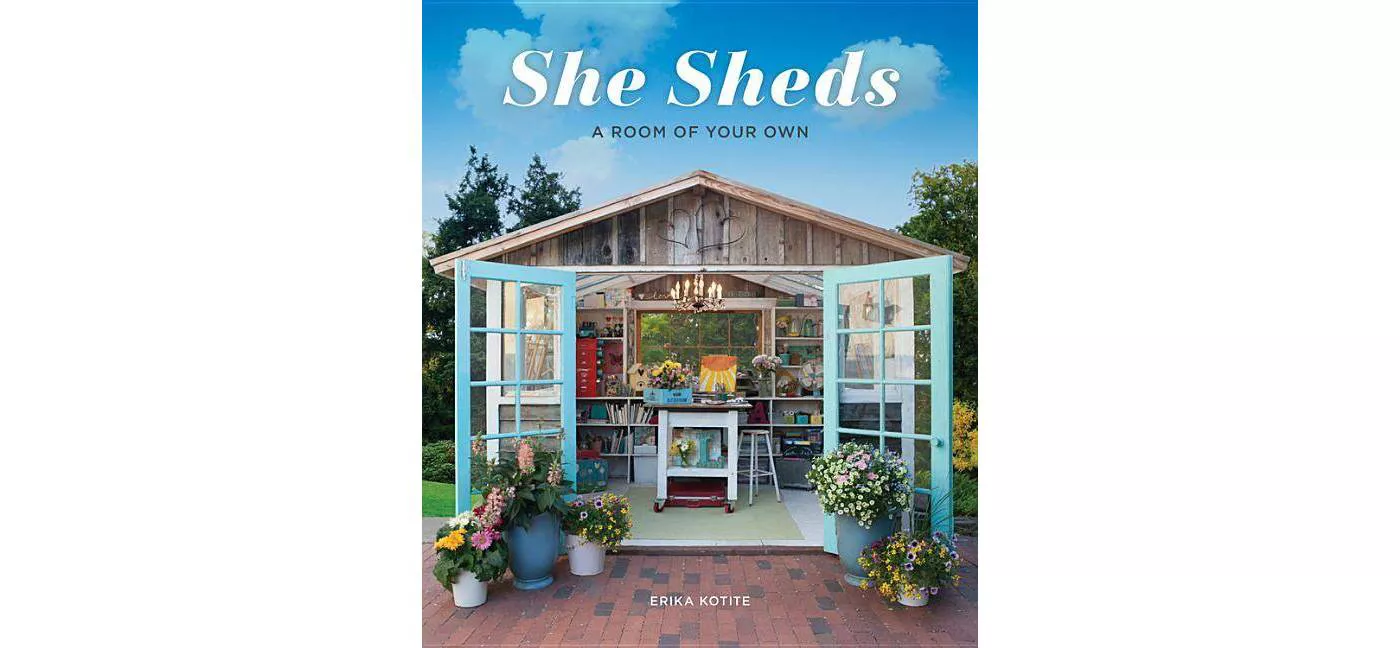 She Sheds are a necessity to some and a luxury to others. As a gardener, a She Shed or a place to call my own is essential. Erika Kotite has written a book that helps with the planning and optional uses of a She Shed.
The owner of a She Shed should undertake the processes outlined in the book, She Sheds – A Room of Your Own. The initial step involves identifying your style. Seems easy, right? Well, not exactly. Choosing from modern or Classic and everything in between – even mixing the style up. Remember it is your She Shed, the choice is yours. Erika outlines the desired characteristics of each style in good detail.
I paid particular attention to the chapter, Sheds for Gardeners. Creature comforts and extra detail all play a role in the appropriate space for any Lady of the Land. Sometimes this includes a greenhouse feature or even an oversized window. Anyone should have room for sitting to enjoy the view. As a gardener, I cannot imagine a She Shed without a garden embracing it?
One of my favorite examples was the Year-Round Potting Shed. Using recycled items, this She Shed (page 32- 35) had the light and flair that really spoke to me. This model included a table for potting up plants or showcasing a vase collection. What gardener doesn't have vases? I could always use more room for my collection of pots and hand tools.
There are a few changes that I would enjoy on my She Shed. Most importantly, I would add a green roof. A great example is found on page 52. With the right construction partner and the proper plants, my She Shed would be as eco-friendly as possible. I can almost visualize the assorted trailing sedums organically cascading from the roof and dancing with the rain chain. As John Lennon once sang, "You may say I am a dreamer, but I'm not the only one…"
There are so many uses for a She Shed or a He Shed. This book identifies a few options. A room for painting, additional sewing space, adult playhouses, retreats, to old soul sheds. The options are endless. What is helpful are the case studies provided near the end of the book. Remodeling, minimal revisions, or simply starting a project from scratch are included in this book. Just when you have decided which shed is for you, turning the next page can change your mind. For me, the French Farmhouse Style She Shed truly caught my eye. Let me just say DIVINE.
Belle of the Garden, in the Williamsburg historic style, ushers in the list of resources. After reading this book, you can easily justify the need for a She Shed, or He Shed, of your own. What is more perfect than a shed as THE gift that will keep on giving. You could explore all the options with some chocolate-dipped strawberries. A decision could be made and agreed upon with a glass of bubbly. While we are unintentionally pausing, you could actually build your loved one (or yourself) a room of your own. No time to build it yourself? You can always hire someone to build it for you.
If Anne Spencer's husband, Edward, could build Edankrall, I deserve a She Shed.
Always dreaming of my Year-Round French Farmhouse style She Shed. I can always justify having more space of my own.
Teri, Cottage In The Court
by